Už při vyndávání z krabice nás Fastwheel Eva příjemně překvapila svou hmotností. 9 kg je na jednokolku slibující dojezd až 30 km poměrně málo. Kromě jednokolky samotné jsme v krabici našli také český manuál, popruh pro snadnější nastupování pro začátečníky, prodloužení ventilku na nafukování kola a samozřejmě nabíjecí adaptér.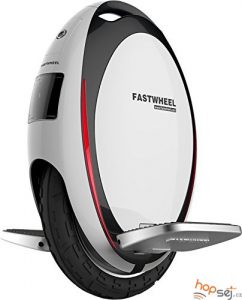 Jednokolka byla nabitá, jen před první jízdou bylo potřeba dofouknout kolo. Na to je dobré  myslet v případě, že budete chtít testovat jednokolku rovnou někde v terénu a nezapomenout si vzít pumpičku. K dofouknutí nám parádně posloužil právě prodlužovací ventilek. Bez něho bychom se k ventilku na jednokolce dostávali obtížně. Pak už jsme se mohli pustit do první jízdy.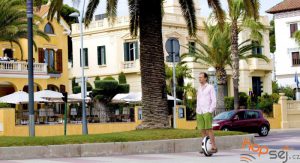 Člověk, který má s tímto typem jednokolek zkušenosti nemá problém nastoupit a rozjet se. Začátečníkům hodinku potrvá cca hodinu, než se naučí na jednokolku nastoupit a plynule se rozjet. Právě pro tyto chvíle výrobce přibalil i pomocný popruh, který vám pomůže jednokolku zkrotit.
Jednokolka je vyrobená z lesklého plastu, na kterém zřejmě budou po pár pádech vidět škrábance. Na druhou stranu většina dnešních jednokolek je vyrobena z podobného materiálu, takže si člověk moc nevybere. Oceňujeme pogumované stupačky, které se hodí obzvlášť když je venku mokro. Maximální rychlost jednokolky je 20 km/h, což může být pro náročnější a zkušenější jezdce už málo, ale pro začátečníky je to naprosto dostačující. Rozhodně je to dost na to, aby se člověk dostal kam potřebuje o dost rychleji. Jediná věc, která nám na jednokolce přijde trochu nelogická je umístění tlačítka na zapínání jednokolky a místa pro zapojení nabíjecího adaptéru. Kdyby to bylo na nás, umístili bychom je opačně, tedy tlačítko dopředu a zapojení adaptéru dozadu.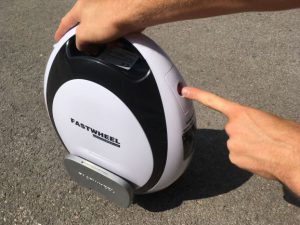 Kolo má v průměru 12″. Tento trochu menší průměr znamená, že v praxi trochu méně tlumí nerovnosti. Většina z nás však běžně nejezdí po Staroměstském náměstí a na běžné chodníky je to úplně dostačující. Jízda na jednokolce je plynulá, zrychlení má parádní. Za tu cenu je to opravdu kvalitní výrobek.
| | |
| --- | --- |
| + | – |
| Skvělý poměr cena/výkon | Menší kolo |
| Nízká hmotnost | Plášť z platu, který se brzy poškrábe |
| Slušný dojezd | Trochu nižší maximální rychlost, než u dražších jednokolek |
| Dostačující příslušenství | Nelogické umístění tlačítka pro zapnutí |
| Plynulost jízdy | |
| Pogumované stupačky | |